Alone Season 8, where the longest lasting survivor will win $500,000, in the most popular survival show ever on TV. In

Season 7

, the Winner, who stayed over 100 days won $1,000,000. Yes, One Million Dollars. Let's meet the Season 8 Cast.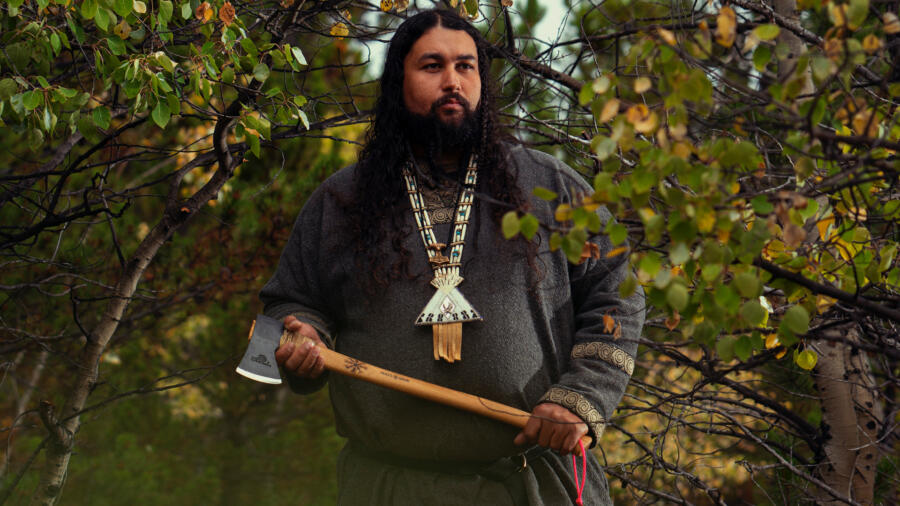 BLOG COMMENT: Biko has a chance of winning this, not because of his survival skills which appear to be limited, but because of his fat reserves, and smart selection of tools. Not trying to be crude or rude, but ample weight has carried others to victory in past events. With a little food from hunting, fishing & trapping, he has the potential to be $500k richer after this event, IF he has the mental toughness. His young age could be an advantage in stamina, but a disadvantage in experience.
Age: 30
Hometown: Otis, OR
Profession: Construction Laborer/ Lead Singer
With the heart of a mountain Viking and the soul of a skald, Biko is most at home in the wild. He grew up in the mountains of Topanga Canyon, California, where his parents shared with him their love of the wilderness. Family vacations involved camping, backpacking, snowboarding, snorkeling, spear fishing or hunting. Wilderness and survival skills were prized in his family. Biko's father, a former Los Angeles sheriff's sergeant and Marine veteran, shared a passion for wilderness outings and hunting and fishing, that he learned from his own father as a child in Fiji. "In a survival situation," was Biko's dad's constant mantra. He taught Biko and his older brother everything about wilderness survival training. His mom rambled the canyon trails with Biko, his dogs and his friends. When he was older, Biko trained with his Dad's search and rescue team and he even participated in avalanche training.
Biko loves the Norse gods and following in the old heathen ways. He spars with sword, axe and shield with like-minded friends, and loves building, welding, and forging with his own hands. These are all skills he puts to good use on the property he owns with his fiancé, Erin, in the woods of Western Oregon. Just before leaving to compete on Alone, Biko learned his fiancé is expecting twins—their first children. Taking on the Alone challenge will be his greatest journey until his next step—fatherhood.
Music is in Biko's blood. His grandparents are blues musicians in New Orleans, and he formed his first band when he was 9. By 14, his growls, screams and strong baritone put him at the front of metal bands. He became the lead singer of the melodic death metal band Sirion, which became one of the top LA area local metal bands. In Oregon, he is part of a heathen folk band, Endelos, that plays at local mead halls, pubs and festivals.
Biko has longed for an adventure like Alone his whole life. To help Biko prepare for Alone, his dad camped out on Biko's property. Together they worked day and night to train for this epic adventure. He will test his skills, his mental will and his voice. Not to survive, but to thrive and tell his saga.
Here are the ten items Biko selected to bring on his survival journey to Grizzly Mountain:
1. Pot
2. Sleeping bag
3. Ferro rod
4. Multitool
5. Axe
6. Saw
7. Fishing line and hooks
8. Trapping wire
9. Paracord
10. Bow and arrows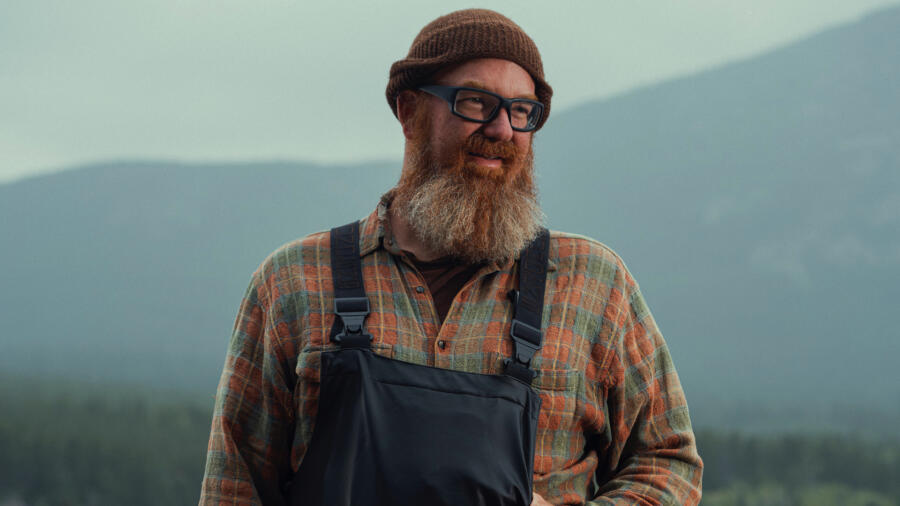 BLOG COMMENT: Military SERE training and a fair selection of tools, give Colter a reasonable chance to win, but no Ferro Rod demonstrates confidence, yet may be his his failing, unless he is successful starting a friction fire. If he is good enough to do this, he has a good chance to be in the Final 4.
Age: 36
Hometown: Hobbit Hole, AK
Profession: Homesteader & Educator
Colter was born in Montana, raised in Oregon, and has spent the last 14 years living, working and homesteading in the Alaskan bush—far from the road system.
While he grew up hunting and fishing with his family and friends, it wasn't until at age 22 when Colter moved into the fly-in only native village of Kokhanok, Alaska, that he actually understood what living off of the land means. With the mentorship of the local residents, it was there that he began the physically, mentally, emotionally and spiritually challenging and rewarding pursuit of a more subsistence-based lifestyle. He discovered that it was more stimulating, hence fulfilling, to accomplish something for himself rather than trade money and have someone else do it for him.
After 10 years of working in public education in rural Alaska, Colter found a unique opportunity to combine his passions of teaching and living off of the land. For the past three years he's been employed as a homesteader and educator by the Tidelines Institute, a field school located on a remote island in Southeast Alaska. Each summer, the school hosts environmental education courses where Colter gets to share his enthusiasm and curiosity with students by teaching "homesteading" skills each afternoon; milling wood and construction, blacksmithing, foraging, gardening, tanning hides and fish skins, food preservation and more. And in the winters, when he has the islands to himself, Colter enjoys the peaceful, slow paced life and deepening his connection with both himself and the natural world.
Colter hopes to combine modern homesteading science and skills with indigenous wisdom and traditions to not only win season 8 of Alone, but to demonstrate the beauty, meaning and fun that can be found when we slow down and simplify our lives.
Here are the ten items Colter selected to bring on his survival journey to Grizzly Mountain:
1. Sleeping bag
2. Pot
3. Axe
4. Saw
5. Tarp
6. Bow and arrows
7. Snare wire
8. Fishing line and hooks
9. Multitool
10. Paracord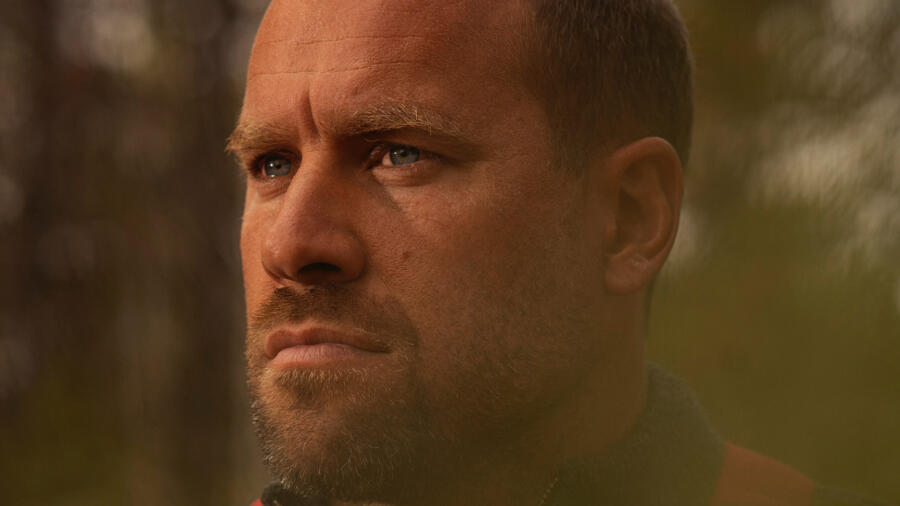 BLOG COMMENT: Alaska wilderness experience and accustom to working hard as a carpenter, gives Jordon a good chance of winning. Watch his trapping/fishing skills for his key to success, and his 5 lbs of food rations will keep him strong for several days until he can start harvesting food.
Age: 43
Hometown: Oak Ridge, TN
Profession: Carpenter
Jordon was born and raised in Maine, where he took to the woods and primitive living at an early age. He joined his family in beaver trapping, deer and bird hunting, and catching brook trout from mountain streams along the Canadian border.
Restless at heart, Jordon began a life-defining journey at age 19, when he loaded everything he owned into a beat up old truck and moved to Alaska. There, he spent nine years climbing mountains, hunting, fishing, snowboarding and somehow surviving his often reckless adventures, which included spending many shelterless nights at -40ºF degrees and once being swept down a mountainside by an avalanche.
A carpenter by trade, Jordon's work eventually had him traveling across the United States. Each location offered him a new type of wilderness experience. A job in Tennessee led him to settle down once he met his wife and started his family. He spends much of his time now running his construction company and passing on his outdoor knowledge and experience to his 10-year-old son.
By participating on Alone, Jordon hopes to rekindle his adventurous spirit of the past, meld it with his present insight and knowledge, and create a legacy for the future with the ultimate story to one day tell his grandchildren.
Here are the ten items Jordon selected to bring on his survival journey to Grizzly Mountain:
1. Sleeping bag
2. Ferro rod
3. Pot
4. Axe
5. Saw
6. Multitool
7. Snare wire
8. Fishing line and hooks
9. Bow and arrows
10. Food ration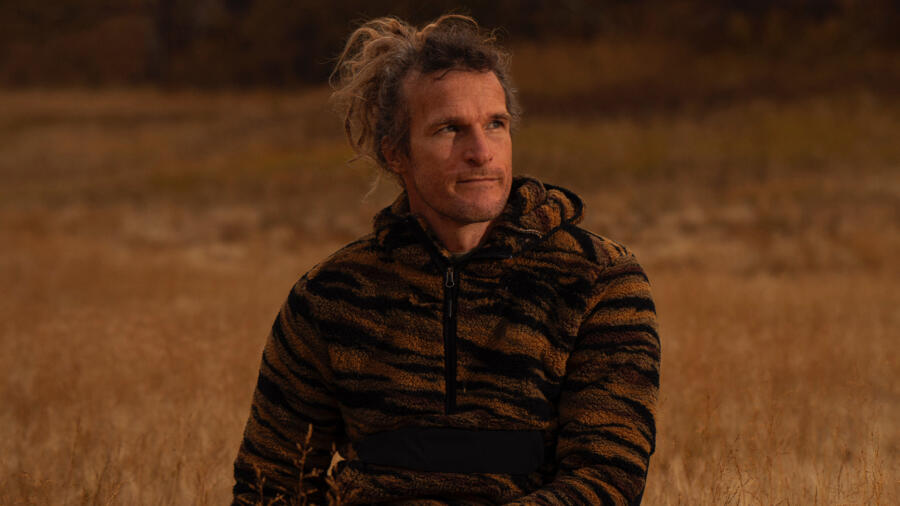 BLOG COMMENT: Wilderness survival Instructor is a plus, but this will be the extreme opposite of what Matt is accustom to, and will require substantial adaptation to have a chance of winning. Failing to bring a Ferro Rod may put him out of the game quickly. If he passes the cold, wet region test of building a friction fire, he has a good chance to be in the Final 4.
Age: 42
Hometown: St. Croix, U.S. Virgin Islands
Profession: Wilderness Survival Instructor
Matt grew up in Norfolk, Virginia as a typical suburban/city kid. Family camping trips sparked a deeper interest in nature, which grew through the years.
As a young adult, a chance meeting with a childhood friend resulted in him acquiring a book by Tom Brown Jr. and, during his few years of homeless wandering, the seed planted by that book and others became fertilized. After taking a class at Tom Brown Jr.'s Tracker School, Matt made primitive survival his life's focus. During his almost 7 years as a full-time instructor, he met his wife and the two of them lived year-round in a primitive shelter while teaching in the Pine Barrens in New Jersey, encompassing all aspects of survival.
In 2012, Matt and his wife took an amazing opportunity and bought an eco-camp in St. Croix in the US Virgin Islands called Mt. Victory Camp. There, they run their own wilderness survival school, Caribbean Earth Skills, which teaches both adults and children. The couple is also raising their two-year-old son and six-year-old daughter.
Matt sees Alone as an opportunity to hone his skills and challenge himself in a new environment. As a lifelong learner, he is looking to humble himself and learn to fuse with the landscape and his instincts. More importantly, he sees survival experiences as a spiritual quest and a chance to become a better human being and hopefully tell a few good jokes along the way.
Here are the ten items Matt selected to bring on his survival journey to Grizzly Mountain:
1. Bow and arrows
2. Fishing line and hooks
3. Knife
4. Saw
5. Sleeping bag
6. Paracord
7. Pot
8. Water bottle
9. Food ration
10. Snare wire
BLOG COMMENT: One of the older, potentially more experienced candidates, she selected a good set of tools. Her cold weather experience can give her an advantage, but I hope to be wrong is saying she is unlikely to be the first female winner.
Age: 46
Hometown: Cherryfield, ME
Profession: Educational Consultant
Michelle was raised on the Maine coast, where she grew up exploring the forest and seaside areas. She spent a majority of her free time outdoors with her older brother wandering the woods, fishing off the town wharf, combing the shore, and generally getting up to childhood mischief. Her mother, a teacher, and her uncle, an avid outdoorsman, had a significant hand in inspiring her love of nature. They taught her all about the incredible world around her and would always take her camping and fishing.
Michelle received her degree in elementary education but, instead of entering the classroom after graduation, she chose to pursue bushcraft studies. She lived primitively in a semi-subterranean dwelling for nearly two years, taking classes and practicing various skills such as tracking, shelter making and wild edible identification. For years, Michelle ran and assisted trainings for adults and children to help them connect with the wilderness.
Eventually, she ended up in a public school in bush Alaska, teaching Siberian Yup'ik children on a remote island off the coast of Nome, where she continued to learn traditional skills from the village elders. There, she met her husband Doug, also a teacher, and they now make their home in rural Maine renovating a farmhouse from the 1820s.
When not providing professional development to teachers around the country, Michelle can be found traveling the world, practicing indigenous skills, scuba diving, and gardening. She looks forward to connecting with an amazing new wilderness area and learning as much as she possibly can from the land with all of the challenges and opportunities it will offer.
Here are the ten items Michelle selected to bring on her survival journey to Grizzly Mountain:
1. Sleeping bag
2. Pot
3. Ferro Rod
4. Multitool
5. Saw
6. Axe
7. Snare wire
8. Fishing line and hooks
9. Bow and Arrows
10. Paracord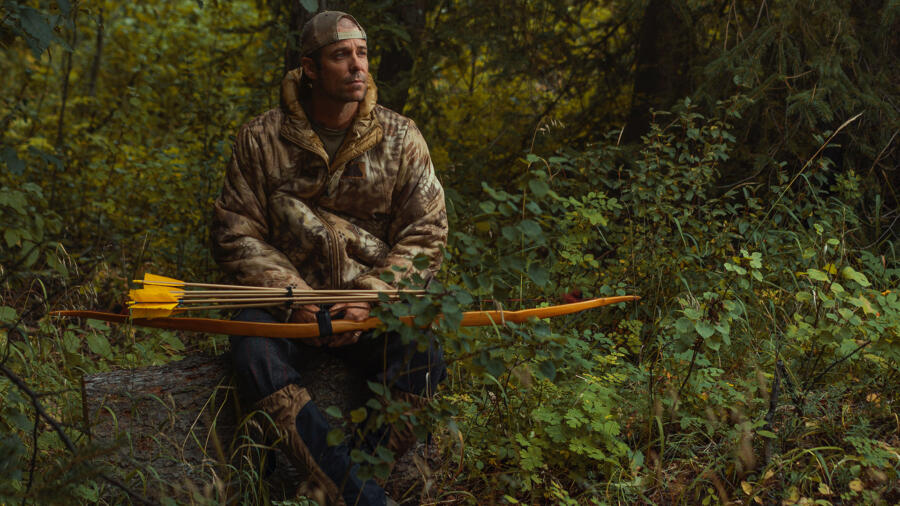 BLOG COMMENT: With a good set of tools, fishing and hunting experience Clay can win, as his Bow skills can prove to be a huge advantage. His Florida wilderness experience is good, but this will be the extreme opposite (cold). With a focus on a good shelter and ample fire wood, he is a likely candidate to be in the Final 4.
Age: 40
Hometown: Milton, FL
Profession: Professional Bowyer & Hunter
Clay Hayes has been a lifelong student of the woods. Growing up in the rural pine woods of northwest Florida, he honed the skills in hunting, fishing and trapping that would serve him for the rest of his life. He has always been drawn to hunter/gatherer cultures and the self-reliant lifestyle they embody. As a child in the Florida backwoods, he practiced the primitive skills he admired in those self-reliant cultures and dreamed of someday living a similar life in the Rocky Mountains.
Those childhood dreams eventually led him into a career as a wildlife biologist, where he got to work in some of the most remote and beautiful landscapes in the lower 48. But despite investing seven years of college and ten years in the job, his true passion was always primitive and traditional archery. In 2017, he left the biology career behind to focus on teaching primitive bow building and archery through online videos and in-person classes.
Since building his first successful bow in 1999, Clay has introduced tens of thousands of people to traditional and primitive archery through his books, magazine articles and online videos.
Clay lives with his wife Liz and two sons, Coye and Fen, on their homestead in North Idaho. Together they hunt, fish, forage and grow a large garden. Raising their two boys in close connection with the earth, with a practical understanding of nature and a sense of self-reliance, is important to both Clay and Liz.
Here are the ten items Clay selected to bring on his survival journey to Grizzly Mountain:
1. Sleeping bag
2. Pot
3. Axe
4. Saw
5. Multitool
6. Bow and arrows
7. Paracord
8. Fishing line and hooks
9. Snare wire
10. Ferro rods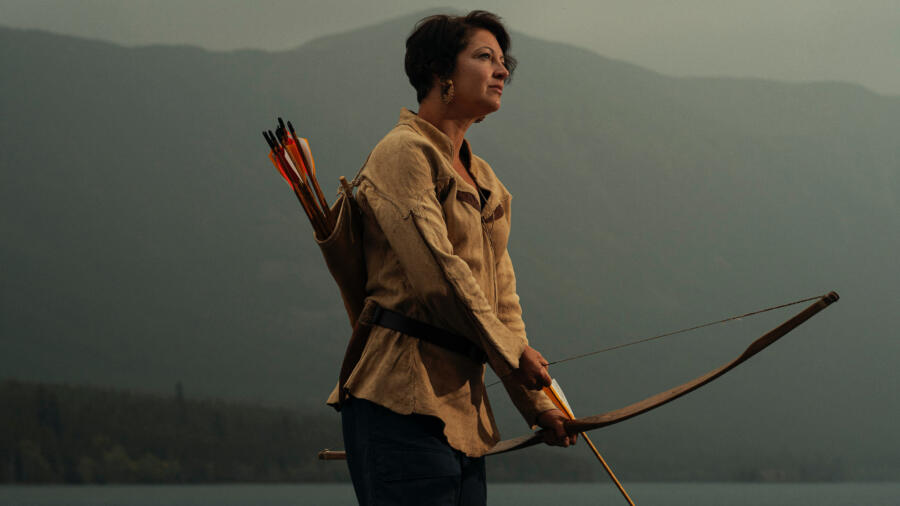 BLOG COMMENT: With amazing credentials, Theresa could be a finalist for sure, but she could also quit early in the game, as this environment will not be like any class room she has ever experienced. The degree of experience from her Experimental Archaeology is uncertain but could prove to be a big advantage if she has a lot of hands on field experience. I'd love to chat and learn more about this interesting field. Theresa is likely a rising or falling star, with either a strong performance or early tap out.
Age: 40
Hometown: Exeter, UK
Profession: Prehistoric Leather Specialist
Dr. Theresa Emmerich Kamper is an avid practitioner of traditional living skills and primitive technology of all kinds and has tanned skins using traditional technologies for over twenty-five years. She originates from the state of Wyoming in the United States, where she was lucky enough to grow up as part of a family of outdoor enthusiasts. The vast tracks of wilderness surrounding her hometown allowed ample opportunity to practice and hone her practical skill sets.
Learning to tan was a natural offshoot of the attempt to use as much of the animal as possible and had the added bonus of producing a beautiful end product. Through much trial and error and with the support of very tolerant parents, Theresa learned to brain tan skins between the age of 12 and 13. Later interaction with other traditional tanners and excellent written information vastly improved the efficiency and quality of her tanning process.
Theresa has taught various tannage types such as fat tan, vegetable tan, alum taw and rawhide production to groups ranging from bush crafters to University students for the past nine years.
In addition to her main area of expertise in tanning technologies, she has also taught a wide range of traditional living skills, including the construction and use of traditional weapons, the use of plant and animal fibres, patterning and clothing construction, basketry, clay processing, pottery manufacture and firing, shelter construction and use, friction fire lighting and basic flint knapping and stone tool construction and use.
Theresa holds a master's degree in Experimental Archaeology from the University of Exeter, as well as a PhD on the microscopic analysis of prehistoric processed skin artefacts. Her background includes an internship with the Smithsonian National Museum of Natural History, work with the Openarch project funded by the Culture Program of the European Union, where she was heavily involved in experimental work and public demonstrations at archaeological open air museums, giving international workshops, presenting at numerous conferences, consulting on television documentaries, co-authoring a chapter in Life-Cycle of Structures in Experimental Archaeology: an object biography approach with Sidestone Press. Her recently released book titled, Determining Prehistoric Skin Processing Technologies: the macro and microscopic characteristics of experimental samples, is also available from Sidestone Press.
Dr. Emmerich Kamper is currently an honorary research fellow with the University of Exeter, in the United Kingdom and teaches practical courses across Europe, North America and the Near East on various tannage technologies as well as continuing to engage in research projects with a broad array of museum and academic institutions. Alone was an opportunity to put a lifetime of learning into everyday use in a long-term living situation, and was an incredible learning experience!
Here are the ten items Theresa selected to bring on her survival journey to Grizzly Mountain:
1. Sleeping bag
2. Pot
3. Knife
4. Saw
5. Food ration
6. Ferro rod
7. Snare wire
8. Fishing line and hooks
9. Bow and arrows
10. Paracord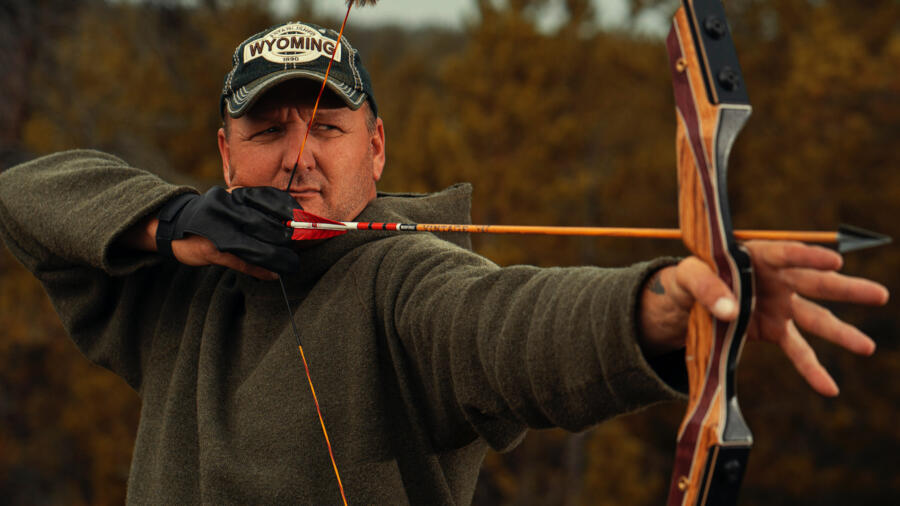 BLOG COMMENT: Hard working country boy, hunting and fishing, lots of time spent in the wilderness, Tim has the potential to do well in this event.
Age: 48
Hometown: Laramie, WY
Profession: Oil Rig Roughneck
Born in Montana, Tim was raised in Wyoming. He grew up in the country, where raising livestock and growing your own food was a normal, everyday way of life. Since he was surrounded by mountain men gatherings, wild game hunting, fly fishing, and remote wilderness camping, his passion for wilderness living skills developed at a young age. With his deep fascination with the mountains of Wyoming, it was common for Tim to spend weeks at a time alone in the vast wilderness of the Bighorn Mountain range.
Tim has spent his adult life working on the oil rigs of the Midwest from Utah to North Dakota. Hard work in extreme conditions has been the normal environment for the majority of his career. The life of a roughneck also meant being away from his family for weeks at a time on a regular basis. Tim's family and children are the most important part of his life. Every decision he makes and every action he takes is for the benefit of his children.
When not working, Tim spends all his time in the wilds of the Snowy Range mountains in Southern Wyoming. There, he built a remote off-grid cabin where he and his family spend almost all of their free time learning and living off of the land. An avid and successful big game bowhunter, every year Tim hunts elk, deer and bear. He currently has two bears in the Pope & Young record book, recognized as the official repository for records on bow-harvested North American big game animals.
Additionally, he is excited for the opportunity to culminate the skills he has learned during his life, as well as the hardships he has endured, and achieve a successful wilderness experience.
Here are the ten items Tim selected to bring on his survival journey to Grizzly Mountain:
1. Sleeping bag
2. Pot
3. Ferro rod
4. Bow and arrows
5. Multitool
6. Saw
7. Axe
8. Fishing line and hooks
9. Paracord
10. Food ration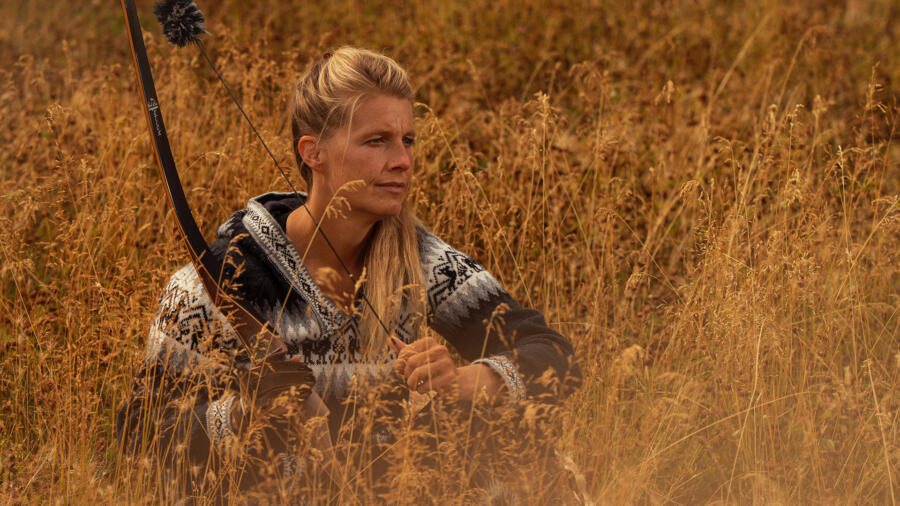 BLOG COMMENT: With hunting, trapping and fishing experience that will be a plus, Rose can be a strong candidate IF she can make these skills work for her. Her attractive slim figure does not bring many calories, so she will need to get off to a good start finding and building some food supplies to have a chance of winning.
Age: 43
Hometown: Wellsboro, PA
Profession: Retail Sporting Goods Shop and Training Center Owner
Rose grew up in Tioga County, PA, where she spent most of her childhood hunting and fishing the trout streams of the beautiful Pine Creek Gorge area. Learning these skills and having an interest in sustainable living helped Rose develop an adaptable and agile nature. While most of her childhood was spent moving from one environment to another or from one home to another, Rose has always found a way to make the changes and curveballs work for her as she navigates through life's journey.
As a mother of a 25-year-old daughter and a 22-year-old son, Rose aimed to raise her children with the knowledge they would need to live sustainable lives. This included teaching them how to garden, hunt, trap, fish, and raise and harvest farm animals. Now that her children are grown, Rose spends most of her free time teaching local youths about the importance of hunting, trapping, and the cultural aspects associated with understanding conservation. Whether it's through community wide classes or showcasing her own pursuit of a bow North American Super Slam, Rose always promotes understanding each animal and directly showing how conservation is important. Some of the hunts that Rose showcases include Musk Oxen in Greenland and invasive species like Pythons in the Florida Everglades.
Because of her lifestyle, travels, core beliefs, daily practices, and lessons learned, Rose believes that her drive and determination to never quit will put her at an advantage. While Season 8 of Alone will be one of the most challenging adventures of Rose's journey, she is looking forward to putting all of her skills together to create a sustainable life for herself in the wilderness.
Here are the ten items Rose selected to bring on her survival journey to Grizzly Mountain:
1. Bow and arrows
2. Sleeping bag
3. Multitool
4. Fishing line and hooks
5. Pot
6. Snare wire
7. Paracord
8. Saw
9. Axe
10. Ferro rod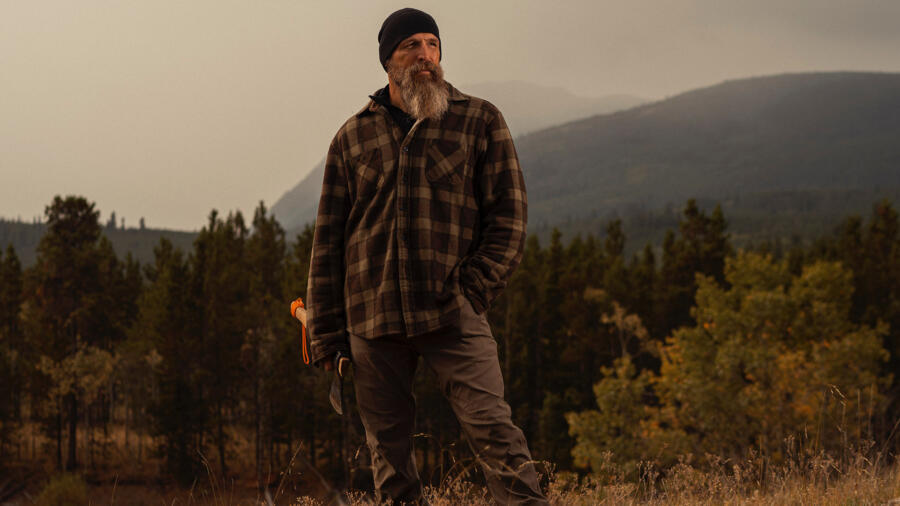 BLOG COMMENT: Looking like a Mountain man, Nate's military experience, especially the SERE training makes him a strong contender, but he is one of the older participants; if this translates to experience and working smart, he can be a Final 4 candidate, but he must work smart, and not make mistakes that require a lot of additional work. Chance / Luck may be a factor in his destiny.
Age: 47
Hometown: East Jordan, MI
Profession: Retired Military/Homesteader
Growing up in rural Ohio, Nate Weber spent his early years outdoors (like most kids back then). Eager to find his place in the world, Nate joined the Navy three days after graduating high school. He spent the first twelve years of his military career as a Navy Corpsman, graduating from Field Medical School, EMT school and Cardiovascular Medical School. Even though his love for medicine has never waned, Nate wanted to explore other avenues, too. He accepted a commission as an Aviation Warrant Officer in the US Army to fly the Kiowa Warrior helicopter. Nate's twelve years in the Army included SERE school, becoming an Instructor Pilot and many deployments all over the world.
Recently retired, Nate, his wife, and their five children decided to finally settle down for good in Northern Michigan where the children can enjoy a life outdoors, living off the land, and understanding nature in a more intimate and organic setting of real life living. For the past two years, the family has been living in a tiny home Nate and his boys built on the chassis of an old semi-truck. They are developing their land into a small homestead, as they move towards being completely self-sustainable.
In his spare time, Nate helps coach the local middle school football and track teams, hosting Air-Soft tournaments in the woods, snowmobiling in the U.P., researching and discussing primal nutrition and medicine with his wife, and grilling up the perfect ribeye over an open fire.
In joining the show, Nate hopes to perfect his own survival skills and to learn more about what makes him tick. Though Nate's survival training has been mainly through formal military training, it is his ability to think outside the box, to adapt to any situation, to problem solve his way through any challenge, and to maintain a positive attitude and spirit against all odds that makes him well suited to face this challenge. These are the qualities and virtues he lives by in his everyday life and strives to teach to his children and all those he encounters.
Here are the ten items Nate selected to bring on his survival journey to Grizzly Mountain:
1. Sleeping bag
2. Pot
3. Ferro rod
4. Paracord
5. Snare wire
6. Bow and Arrows
7. Fishing line and hooks
8. Axe
9. Saw
10. Multitool
For more information, click below.

Top 10 List of Prepper info
Top Rated Prepper Handbook Posts of all time
Top Rated Prepper Website
Top 15 Prepper Movies or Shows'



Or click on a label below for similar topics